Godzilla, King Kong uppercut Avatar off China's box office throne
Share - WeChat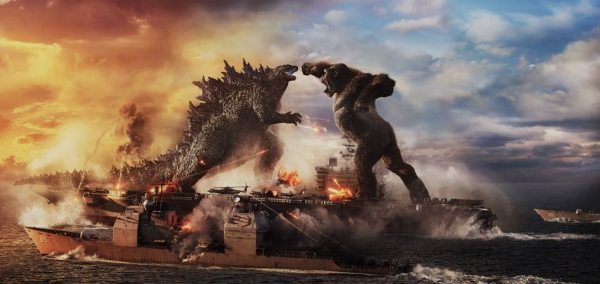 Nearly 60 years after the first and only crossover between Godzilla and King Kong in a 1962 Japanese movie, the two world-renowned monsters are reuniting in Warner Bros and Legendary Pictures' new adventure Godzilla vs. Kong on Chinese screens, knocking down Avatar to top the country's box office charts on its opening day.
According to the box office tracker Beacon, the film has earned over 70 million yuan ($10.7 million) as of 2 pm since it was released on March 26. It made its way to 54.3 percent of all the screens in Chinese mainland, with more than 700 of which featuring IMAX systems.
As the fourth film in Legendary Pictures' MonsterVerse, a shared cinematic universe featuring the two titular monsters, the new tale follows Kong as he is escorted by the scientific organization Monarch to seek a mysterious energy source in an uncharted territory, which surprisingly enrages Godzilla. But their clashes lead to an unexpected climax, after a conspiracy which threatens the planet is unearthed.
Under the helm of director Adam Wingard, the film has been released in the Chinese mainland five days ahead of the North American release, both in theaters and streaming on HBO Max.
With presale box office grosses surpassing 50 million yuan as of Thursday night, the film also set a record to become the highest-grossing presales for an imported film since China has reopened all domestic theaters last July.