Technology helps cotton farmers in Xinjiang
Share - WeChat
With early spring temperatures rising, farmers in Kuqa, Xinjiang Uygur autonomous region, got busy planting more than 100,000 hectares of cotton.

Kurban Tohti, who rents 2,000 hectares of farmland in the city's Xonut village in Yaka town, is looking forward to another harvest with the help of advanced intelligent agricultural machinery and technologies.

"The implementation of the nation's cotton price reform policy and rural revitalization strategy in recent years has greatly enhanced farmers' enthusiasm and confidence," he said. "I had a good harvest on my 1,333 hectares of farmland, so I rented more this year."

He added that all the planting work was expected to be finished before April 5.
Yaka started planting earlier than other areas of the city to avoid potential problems with any late-spring cold snap in the weather. Farmers use double plastic film mulch.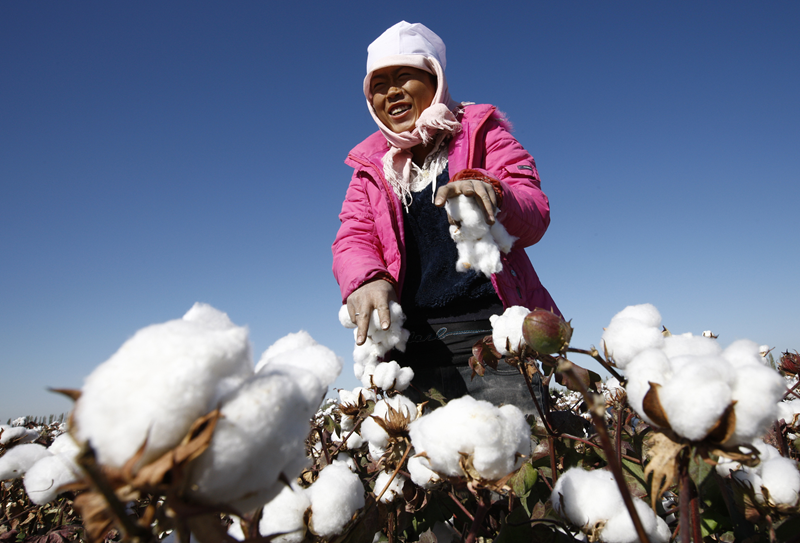 "A total of 18,666 hectares of farmland will be planted in cotton in Yaka this year," said TuNiyaz Yakup, chairman of the standing committee of the town's People's Congress. "Most of the cotton will be harvested by machines in autumn. We have prepared for spring planting earlier and will finish all the work before April 15."

Xinjiang is well known for its premium long-fiber cotton, which is popular in domestic and global markets.

As China's largest cotton-producing area, Xinjiang's cotton output reached more than 5.1 million metric tons last year, 87.3 percent of the country's total and an increase of 3 percent over 2019, according to the National Bureau of Statistics.

Last year, nearly 70 percent of the region's 1.6 million hectares of cotton farmland was harvested by machinery rather than by hand thanks to progress in farming technology.