Orchestra tunes up for busy season
Share - WeChat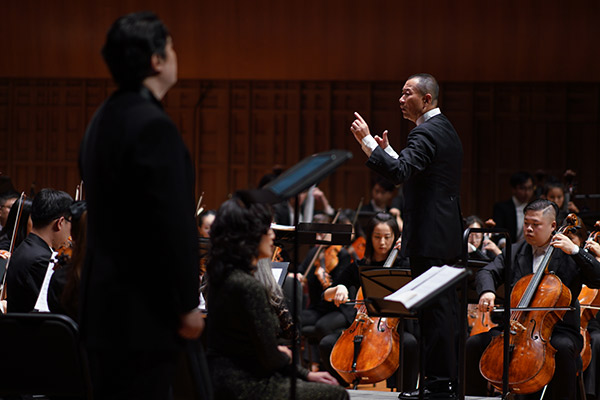 The Xi'an Symphony Orchestra will kick off its 2021 season on April 5 with a concert under the baton of conductor Tan Dun.
The concert will hear Nu Shu: The Secret Songs of Women, a symphony for 13-movement micro films, harp and orchestra, which is composed by Tan, and Pictures At An Exhibition, a musical work of 10 movements by Russian composer Modest Mussorgsky. Harpist Chen Yuying will join the performance.
As the honorary artistic director and principal guest conductor, Tan, an Academy Award-winning composer, started his relationship with the orchestra by performing with it for the first time in 2014 with a commissioned piece, titled New Silk Road-Chang'an. In 2020, Tan returned to Xi'an and toured with the orchestra performing his work, Dunhuang Buddha Passion for soloists, chorus and orchestra.
"I've seen the growth of the Xi'an Symphony Orchestra, a young vibrant symphony orchestra. The musicians are full of imagination and they showed me their passion for music," commented Tan. The orchestra was founded in 2012 with musicians of an average age of 30.
Nu Shu: The Secret Songs of Women is a result of Tan's years of research on Nu Shu, a disappearing language with a long vocal tradition created by women in Hunan province during the 13th century. The composer spent five years traveling to the villages of Jiangyong county, Hunan province to visit the women who are still keeping the tradition alive. He did field research and collected the songs of Nu Shu and eventually composed the music.
The 12 "micro films" tell about the lives of mothers, daughters and sisters. The composer selected harp as the solo instrument for the piece since "its beautiful feminine sounds" and distinctive physical shape-similar to one of the ancient Nu Shu characters. It had its Chinese premiere in 2013 as a commissioned project of the Shanghai International Arts Festival, and was presented by the Shanghai Symphony Orchestra.